I know it can be frustrating for people to follow a game development and can't play with it, so i decided to release an almost playable version and make frequent updates according to the progress of the mod's development.
Initially i wanted to release the Linux version at the beginning of november, and then the Windows version at the beginning of december, but i had to make choices.
At the beginning, the Wolfzone mod was made with the GPL version of Wolfenstein: Enemy Territory engine released in august 2010 by id Software, and i only kept the Linux part because at that time i made this mod only for me.
But as i make a version for everybody now, i have to give a Windows version available too, and as i make that mod on my spare time, i don't have time and prefer to focus on the mod development rather than on the game engine, so i decided to modify the mod so that it will works with the ET:Legacy engine as the ET:Legacy team have done a great work to correct and improve the original Wolfenstein: Enemy Territory engine, moreover both projects are compatibles as they use GPL v3 license.
And thus, i'm working at present to adapt the mod and i will do my best so that it will be available by the end of the month, so stay tuned.
Player models:
I have got permission from marze3d to use these amazing player models he made for the True Combat: Elite mod, so i will append these models to the Wolfzone mod as soon as Linux and Windows versions will be available.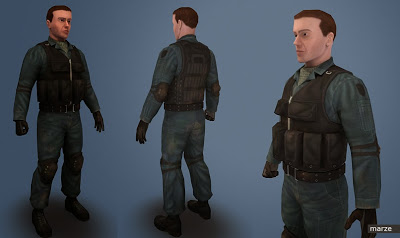 Bobot IA:
The Bobot mod artificial intelligence is based on a neural network which works rather well to simulate human behaviors, and the decision-making is made among a selection of predefined actions each having a percentage of concurrent priorities.
I have found a way in the bot's thinking loop function to redirect to another function who can watch and change these priorities levels in such a way that they can achieve a group of even more structured actions from the already implemented simple actions, for example:
engage enemy,
withdraw if too much damage,
take cover,
wait to recover health,
counter attack,
engage enemy,
and so on...
Crossroad map:
As you may have noticed with the last released screenshots, i edited the Crossroad map so that it becomes integrated into an urban environment instead of the countryside. I have to settle some details, but i think this will be the final version, and i could begin to make the next map.
Voilà, that's it for now. Feel free to ask questions if you have it.